Behr Biodegradable Concrete & Masonry Cleaner Degreaser No. 990 — Review
© 2011 Peter Free
23 February 2011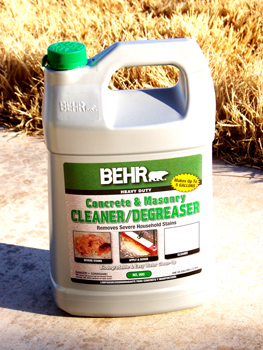 Pretty close to worse than worthless
Even full strength, and used as directed, this product doesn't work for anything you are likely to have on your concrete garage floor.
But it does require protective clothing to use.
Consequently, Behr Number 990 is expensive, doesn't perform as promised, and can hurt you.  How's that for entrepreneurship?
A list of what Behr Concrete Cleaner would not clean for me
Behr Number 990 did not even slightly remove red Oklahoma clay stains, days-old rust, light automotive oil, light automotive grease, slight paint residue, joint compound spots, oil-based wood stain drips, organic acid discolorations, and various weed-killer and grass-killer spills.
At best, the Behr product makes non-stained, non-dirty concrete look like you washed it between the stains.  Big deal.  Water will do that.
Other important negatives
Expensive at approximately $15 per gallon.
The instructions say it can damage paint.
When rinsing, Behr Concrete Cleaner also foams up in a shop vacuum.  It foams so much that just 2 gallons of rinse water in a 12-gallon Craftsman shop vac began blowing a foaming mess out the exhaust hole (all over the vacuum body and floor).
Not recommended
This product is so bad that Behr should pay customers to take it away.
Biodegradable alternatives
Ordinary household floor and surface cleaners work as well or better.
RoVer® Rust Remover works surprisingly well on concrete rust stains (with time and scrubbing).  It also removes rust stains from clothing.
Castrol's biodegradable Super Clean Cleaner Degreaser is reasonably effective on oil and grease spots.